A n

umber of years ago, Spirit gave me a piece of very clear direction:
I was to have a bowl of salt, with hematite and aquamarine. After every client, I was to run my hands through it. When I came home for the day, I was to run my hands through it. Before and after each class I taught, I was to run my hands through it.
The results were amazing. It cleared my energy and grounded me like nothing else had. I was so thrilled with it that I told a few of my core students about it, and they each wanted one too. While I was making theirs, I would get instructions on which stones to add, although all o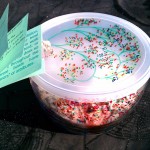 f them had the salt and the hematite; most had lavender, a few have had frankincense, one might have had rosemary. I pass mine around during some of my classes, just to clear energy quickly. I found a supplier for smaller bowls with lids, and started making more portable bowls for practitioners who do mostly house calls, or for people who want to take theirs to the office.
I have clients and students who use their bowls, not just for clearing themselves, but for clearing their magickal or healing tools. They are decorative enough to leave out in a room, although I would recommend keeping them out of the reach of cats and children.
Each c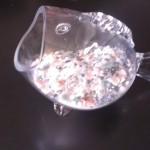 ontainer I use is unique, except for the portable bowls, and then they are either a Japanese ceramic design or, if they are glass, I hand decorate them. Bowl materials include acacia (wood), glass, and ceramic. I will not use plastic, and I don't think I've ever made a metal one. Bowl contents have included: Amethyst, Apatite, Green Apophyllite, Aqua Aura, Aquamarine, Aventurine, Black Tourmaline, Blue Calcite, Blue Lace Agate, Bloodstone, Carnelian, Chalcedony, Chrysoprase, Citrine, Clear Quartz, Copper, Fossilized Shell, Garnet, Hematite, Howlite, Jade, Jasper, Jet, Kunzite, Labradorite. Lava Rock, Lightning Strike, Mangano, Moonstone, Opal, Pearl, Prehnite, Pyrite, Rose Quartz, Ruby, Sandalwood, Seashells, Shungite, Smokey Quartz, Snowflake Obsidian, Sodalite, Sugilite, Tiger Eye, and Volcanic Rock. Each bowl comes with a write up of each of the stones (name, what it does) and a general idea of the overall energy of the bowl, as well as standardized instructions for how to use it and care for it.


You can, of course, make your own if you'd like. There isn't really anything proprietary about the idea. People have been putting rocks and/or salt in containers and using them for clearing for years. If, however, you would like one of mine, I am running a special for the month of April, 20% off custom and portable bowls. You may email me for more information or to discuss what you might be looking for in a bowl.