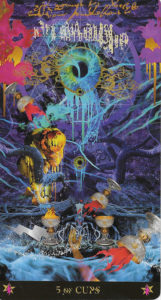 The Five of Cups
"I am inconsolable"
From Davide De Angelis: "For this card to have impact, one does not have to be dealing with something catastrophic. It points to the fact that we all carry tremendous grief: ancestral grief, family grief, cultural grief, grief for our loss of innocence.
Grief is part of the natural cycle of life, we can stop fighting against it and allow ourselves to feel what needs to be felt.
The fast flowing river in the card has more than one meaning or possibility. Of course we can be swept away by the river of tears, but we can also be cleansed by it. We can put right what we can, and let go of grief, let it be taken back into the great ocean of life. This card does not point to the arrival of some grief, for it has already arrived and we carry it in our cells. Instead it presents a question and a powerful possibility. It asks you to look at the grief you hold on to. It invites you to complete with it and let it go, letting life – Nature – take care of transmuting it back into vitas or energy."
August is the month leading up to the crescendo of the year, and it has infinite possibilities. How have you been working with the themes of the year? What do you want to resolve before it gets louder? Take this month to really examine what you have been processing. As we are just coming out of Mercury Retrograde, you have most certainly been reminded of it recently. What else do you need to do to create a sense of closure for yourself? Make plans, take steps, do the thing. If you need help, ask for help! Coaching, counseling, healing, education… Get it! There is no time like now.