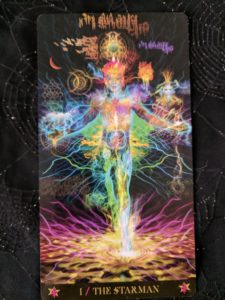 Before the holidays, I acquired a new tarot deck – the Starman Tarot, by Davide de Angelis, an artist who did a lot of work with David Bowie. The artwork in the deck is inspired by the artworks he created for Bowie, in fact. The detail of the visual language is amazing, and the write ups are great for triggering insight cascades.
The best way for me to make friends with a new deck is to do readings with it, so I thought I would offer a special on 2019 forecasts using the deck. You get your reading via email, with a photograph of the layout, along with each individual card, and a blurb for each month of the year. If you want to include your date of birth, I can add some bits of numerology and astrology as well.
I'll only be offering this through January 1st, 2019, because I have classes starting up.
While this sort of reading would normally be around $150, I am offering a special price of $99.

Please note that I am not currently offering readings outside of birthday specials (for people on my mailing list) and at the quarterly Crystal Matrix Psychic Faire.