Connecting the Branches is a podcast that looks at current events through a Kabbalistic lens
Hosts: Irina Xara & Ayamanatara
Episode 2 looks at the pandemic, the economy, Valentine's Day, global climate change, and treating the internet like the astral… amongst other things
PARENTAL ADVISORY
– We Say Fuck.
Podcast: Play in new window | Download
This podcast will be heavily informed by a socially progressive lens that incorporates racial justice, intersectional feminisms, gender liberation, disability justice and a variety of other topics. We also wish to specify that our thoughts in this podcast are spiritually informed by Gnosticism, various esoteric practices, ethnic and cultural Jewish identity, as well as various witchcraft traditions and other multidenominational practices. Our lived knowledge of Jewish dogmatic practices and especially schools of thought informed by Chasidic interpretation may be limited.
Show Notes Ep. 2
2:19 What the Fuck Just Happened Today
2:20 Biden's most recent statements about covid vaccine access, Covid-19 testing, and student loan debt
4:38 The Tree of life, our genetics, and how COVID-19 is surviving
8:23 What can we learn from the virus?
9:45 adrienne maree brown – Emergent Strategy
15:25 Distorted culture notion of "Valentine's Day" and how the energy has been redirected in the last few years.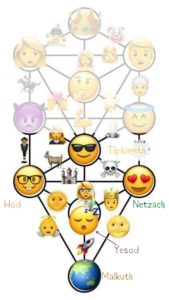 16:11 Yesod, Netzach, Hod (we talk about these a lot in this podcast)
16:31 Tiphareth, Malkuth
19:28 Fudo, bodhisattva of anger
28:28 There are jobs that were lost due to the pandemic that are permanent and unlikely to come back.
29:28 Climate change and how the Pandemic has affected it so far
32:44 Ayamanatara's Blog Post: Forecast for 2021 Part 1
36:33 Triad of Action, more commonly known as the Astral Triad, plus The Kingdom, also known as Malkuth
42:36 Altars up Witches Podcast (link to episode)
43:36 filters on Instagram are like shields of protection and other practical magic via the internet
50:40 BE A LIVE STUDIO AUDIENCE MEMBER AND ASK US QUESTIONS AND BE A PART OF THE CONVERSATION!